Released August 2021
Greek Orthodox Divine Liturgy
Recorded at Ascension Greek Orthodox Cathedral, Oakland, CA | January 1984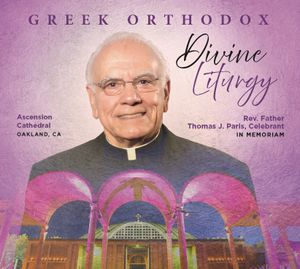 CDs (Amazon) and Downloads available, visit 
hearnow.com/greek-orthodox-divine-liturgy
---
Released June 2021
Eternal Memory 
GREEK ORTHODOX HYMNS & SACRED MUSIC OFFERED IN MEMORIAM
Recorded at Ascension Greek Orthodox Cathedral, Oakland, CA  | 2020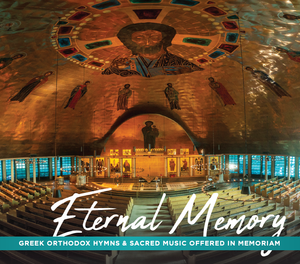 CDs (Amazon) and Downloads available, visit
---
Holy Week and Easter Excerpts

 
Recorded at Ascension Greek Orthodox Cathedral, Oakland, CA  | 1979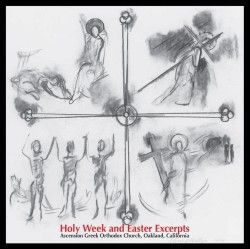 CDs (Amazon) and Downloads available, visit
---
Purchase 10 or more CDs and receive a discount. Contact info@pereclesmusic.com or call 925.820.6720
www.facebook.com/PereclesMusic
 Holy Week and Easter Excerpts - Composers
THEODORE BOGDANOS

Theodore Bogdanos was born in the United States, grew up in Greece, and returned to America after World War II. He received his Ph.D. at the University of California, Berkeley and taught at San Jose State University for 26 years as Professor of English and European Literature of the Middle Ages.
Dr. Bogdanos has done extensive research in the United States and in Europe in Byzantine literature and music and has published several studies in scholarly journals. His work has taken him to the national libraries of Athens, Vienna, Rome, Munich and Paris. In 1978 and 1985 he was given grants by the American Council of Learned Societies to carry out research on the seminal influence of Byzantine music and hymnology on the rise of liturgical drama in the Western Church. He has taught Byzantine musical theory and has transcribed and translated a large body of medieval and contemporary Byzantine chant.
Dr. Bogdanos has been a chanter and choir director and has written choral music for the Divine Liturgy and various special services for the Greek Orthodox Church.
In recognition of his scholarly and musical contribution, the Ecumenical Patriarchate of Constantinople has made him an Archon of the Great Church.
---
STEVE CARDIASMENOS
Steve Cardiasmenos was born in Oakland, California in 1958 and has spent most of his life living in the San Francisco Bay Area. Steve served as Assistant Director of the Ascension Liturgical Choir in Oakland, under the direction of Perecles Phillips in the 1970's. He has played woodwind instruments since the age of five and completed his first composition at the age of fifteen in the mid 1970's. He also started conducting at the age of fifteen.
He is a prolific composer of both sacred and secular works whose music has been published and performed nationally and internationally. Steve is an award winning composer at the highest levels, both inside and outside of the Greek Orthodox Church and he has been recognized by the church with its highest honor for musicians: the St. Romanos the Melodist Medallion.
Steve has been a composer member of the American Society for Composers Authors and Publishers (ASCAP) since 1992 and since 1993, Steve has consecutively won the standard or popular composition award from ASCAP, given to Steve for his compositions in choral and instrumental music (both classical and jazz). Steve held the position of Assistant Conductor of the Masterworks Chorale and Orchestra and since 1985, Steve has served as the Choir Director at the Church of the Holy Cross in Belmont, CA. For over twenty years, Steve also worked as a Senior Software Engineer in Silicon Valley where he specialized in Computer Graphics Software and Hardware Engineering.
---
FRANK DESBY
Frank Desby was born in Cleveland, Ohio on February 24, 1922, the second of four children.  He showed musical aptitude from a very early age.  Between the ages of 7 and 9, he lived in Greece with his family.  Upon returning to the U.S., the family moved to Los Angeles, where Desby lived to the end of his life.  He first took up the clarinet, and later the oboe.  He began composing in his early teens, and on the strength of an opera written during his high school years, he was accepted as a scholarship student to the USC School of Music, now known as the USC Thornton School of Music.  World War II interrupted his education, and upon returning, he completed his undergraduate studies at USC in 1949.  A year earlier, he became choir director of the Annunciation Greek Orthodox Church in Los Angeles, and continued as choir director when St. Sophia Cathedral opened in 1952, a post he held until his death.
Almost immediately upon becoming choir director, Desby began to compose and arrange music for the church services, as well as making a number of arrangements of Greek folk songs for choir and piano.  His music to the Liturgy of St. John Chrysostom continues to be sung in Greek Orthodox Churches the world over.  He also began an intensive study of Byzantine chant and this led to his returning to USC to pursue graduate studies in church music.  His doctoral dissertation, "The Modes and Tuning in Neo-Byzantine Chant," is still considered a landmark in the field of Byzantine music.
In 1954, Desby married Xenia Anton, organist at St. Sophia Cathedral, and they had three children.  Xenia, a first-rate organist and concert pianist, passed away in 1978.
Desby had a phenomenal natural musicality.  He was a concert oboist and jazz clarinetist, a fine trumpet and double-bass player, and could play every single orchestral instrument at least passably well.  He was an excellent conductor of both orchestras and choirs, and an inspired lecturer.  This, of course, being in addition to his composing and his scholarly work, which he did until the end of his life. Frank Desby died on Oct. 30, 1992, and is sorely missed by his family, friends, and colleagues, in and out of the world of music.
---
PERECLES P. PHILLIPS 
See PERECLES tab.
---
TIKEY ZES
Tikey Zes was born in Long Beach, California on October 10, 1927, and began his musical training on the violin and piano at the age of 5. He received his Master of Music degree in violin and composition, and his Doctor of Musical Arts degree in composition (under Ingolf Dahl) from the University of Southern California.
He became a professor of music at San Jose State University in 1964 where he taught Theory and Composition until 1991 when he retired. During this time he was concertmaster of the Musicke Faire Chamber Orchestra for many years. In 1976, while on sabbatical leave in Greece, he studied the notation and transcription of Post-Byzantine Chant and made numerous transcriptions of the chant.
Dr. Zes has directed Greek Orthodox choirs since 1953 and has been director of the St. Nicholas Choir of San Jose, California since 1971. He has been guest conductor and workshop clinician for Greek Orthodox Choir Federations throughout the United Sates and has composed/arranged extensively for the services of the Orthodox Church, including 5 liturgies (one in English). In addition he has written numerous arrangements/compositions for chorus and piano based on Greek folk and popular songs. In 1976 he received the Patriarch title of "Offikion" (letter of patent) from the Ecumenical Patriarch Demetrius and was conferred as "Archon of the Great Church of Christ" for his distinguished work in church music.
He was appointed Music Minister for the San Francisco Diocese in 1993 and has given many Church Music Institutes throughout the diocese. In 2005 and 2006 Dr. Zes inaugurated a Conductors Training Academy for choir directors in the metropolis, the first of its kind for the Greek Orthodox Church in the United States.

BOGDANOS, DESBY AND ZES BIOS -- WWW.AXIOS-MUSIC.COM